Category Archives:
Wall St.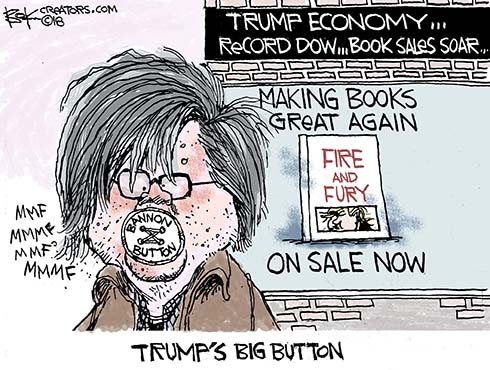 Steve Bannon called Trump's son "treasonous" and "unpatriotic". The quotes appear in Michael Wolff's new book Fire and Fury.
This didn't sit well with President Trump. Trump tweeted that Bannon "lost his mind" when he fired him. The Avenging Donald then sicced his lawyers on Wolff – guaranteeing best seller status for the book .
CNN's Brian Stetler claims Wolff's book "suggests Trump is unstable and raises alarms about his fitness for office."
But CNN also reports that Secretary of State Tillerson, once accused of calling Trump a moron, never questioned the president's mental health.  And the White House deputy press secretary called Wolff a fake news, crackpot fantasy fiction writer.
Wolff agrees! A note in the front of his book says some of his sources definitely lied to him.
Dow Up Bannon Down
Whatever. If it's stability you want, the Dow steadily rose above the 25,000 mark.
Stock analyst Paul Gambles is terrified about that too.