Category Archives:
canada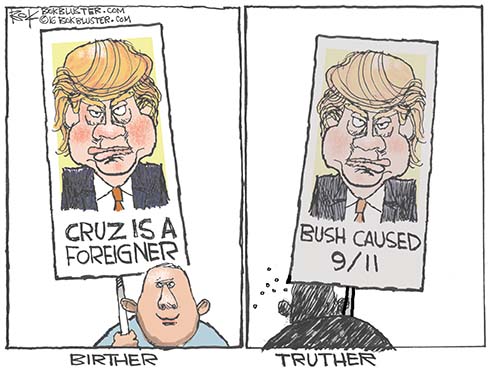 The Donald is now The Truther. He blames Bush for 9/11.
I like Trump because he's politically incorrect. That doesn't mean he's getting a valuable Bokbluster endorsement, but as a cartoonist you gotta admire anybody with the guts to take on the pc movement. Well, maybe not all cartoonists feel that way.
Anyway, birthers believe Obama is a foreign born Muslim and ineligible to be president. His father was a foreign born Muslim (according to some, that makes Barack an apostate eligible for beheading) but he has a Hawaiian birth certificate and an American mother. Cruz was born in Canada of an American mother and Cuban father.
Donald the Truther
Truthers believe 9/11 was an inside job. Trump claims it was Bush's fault because because he didn't act on intelligence to prevent the attack. The 9/11 commission says that's not so. Further, the Clinton administration had established a wall between the FBI and CIA that prevented information sharing that might have helped prevent the attack.