Category Archives:
republicans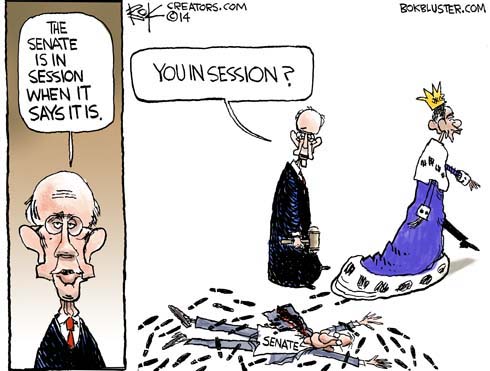 The Supreme Court came to the rescue of the Supine Senate with a 9-0 ruling against President Obama. Unable to get confirmation for three appointees to the NLRB, King Barack simply declared the Senate in recess. He then made recess appointments which don't require senate approval.
Justice Breyer stated the obvious in the majority opinion. Namely, Congress, as an equal branch of government, "is in session when it says it is". Constitutional Scholar Jonathan Turley called the ruling a shot across the bow for the president's go it alone strategy.
Supine Senate
Kimberly Strassel says it came to this because "Congressional Democrats watch supinely as the president treads on their powers."
West Virginia Democrat Robert Byrd —onetime Senate majority leader and fierce defender of congressional power—would have laid down on train tracks to protest Mr. Obama's recess appointments when the Senate was not in recess.
"Having been supine for years in the face of these encroachments, Congress is stirring", says Dr. Krauthammer in a column titled Government by Fiat.
The Republican House is preparing a novel approach to acquiring legal standing before the courts to challenge these gross executive usurpations. Nancy Pelosi, reflecting the narrowness of both her partisanship and her vision, dismisses this as a "subterfuge."

She won't be saying that on the day Democrats lose the White House. Then, cheered on by a suddenly inflamed media, the Democrats will no doubt express horror at such constitutional overreach.