Only Explanation for Hillary Loss: Russians Stole Election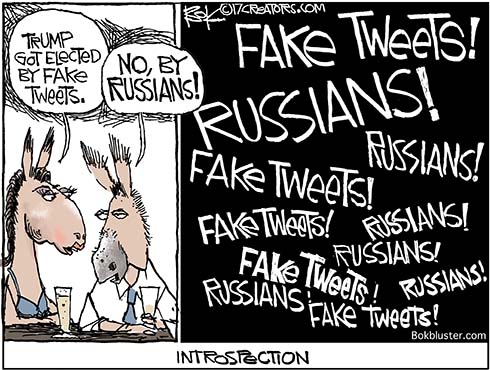 Hillary lost the election to Trump. It could be that she was a weak establishment candidate while Trump tapped into a deep vein of voter anger and resentment.
Or it could be that Russians stole the election.
Russians
FBI Director Comey told the House Intelligence Committee that the latter explanation is under federal investigation. But he offered no evidence of Russian collusion with the Trump campaign to rig the election. And Director of National intelligence Clapper has also said there is no evidence.
Comey also found no evidence to support President Trump's early morning tweet that Obama wiretapped Trump tower.
CNN reports that there's only one known crime in this caper. Someone in the government unmasked Michael Flynn's name as a result of the intercepted phone calls of Russian Ambassador Sergey Kislyak.
While Comey was willing to discuss the FBI investigation of the Trump campaign he was unwilling to say if the Flynn leak was under investigation. That did not please Trey Gowdy.