Category Archives:
natural disaster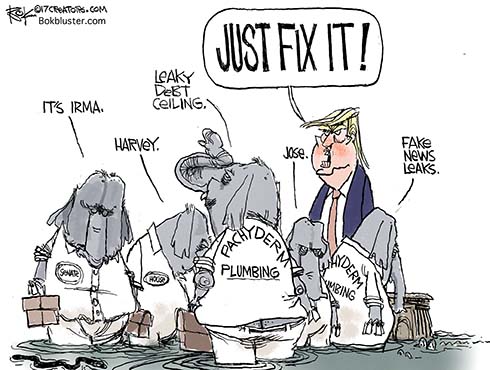 Republican leaders told President Trump they had a plan to get things done in Congress. They didn't. And the swamp remains.
So Trump made a deal with Chuck Schumer to raise the debt ceiling and free up billions for hurricane victims. Now he's looking at Schumer for more deals.
Republican Leaders
Here's what Rich Lowry has to say about that:
The idea that Trump, who has been too inept to help his own party in Congress, will team up with perhaps the most deviously shrewd Democrat in the country and come out on top is difficult to credit. Schumer will milk Trump for whatever he can get — every tactical advantage, every bit of new spending — so long as he doesn't give away anything important and doesn't materially boost Trump's political standing.
National Review's Jonathan Tobin thinks the Republican party means nothing to Trump. Maybe for good reason:
Trump is unbound by any loyalty to the party that nominated him or to men such as House speaker Paul Ryan and Senator Mitch McConnell. To the contrary, he regards them as foes in a cold war against a political establishment he neither likes nor trusts.