Category Archives:
Putin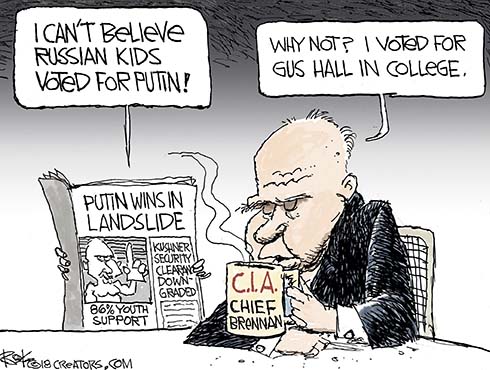 Trump congratulated Putin on his re-election. It made him the longest serving Russian ruler since Stalin.
Stalin no doubt would have admired Putin's 74% take of the vote. But even that's not as impressive as his 86% support among Russian young people.
Young people in American used to be less skeptical of Russian leaders too. For example, Jimmy Carter warned us of our inordinate fear of Communism. And more recently President Obama dissed Mitt Romney for calling Russia our greatest "geo-political" threat. "The 1980's are calling and they want their foreign policy back, because the cold war's been over for 20 years," Obama mocked.
Brennan's Russian Youth Vote
Speaking of the 1980's, former CIA director John Brennan outdid both Carter and Obama. He actually voted for a real live Communist for president. In 1980 he pulled the lever for Gus Hall, leader of the American Communist Party. Brennan was disillusioned with American politics at the time but since then he's changed his mind.
Which makes him the only American not disillusioned with politics now.
Anyway, as a young CIA recruit Brennan was required to take a polygraph test for a top security clearance. He came clean about his voting history. All was forgiven and he was put in charge of the CIA.
Kind of makes you wonder what Jared Kushner did to lose his top security clearance.