Great Wall of Chihuahua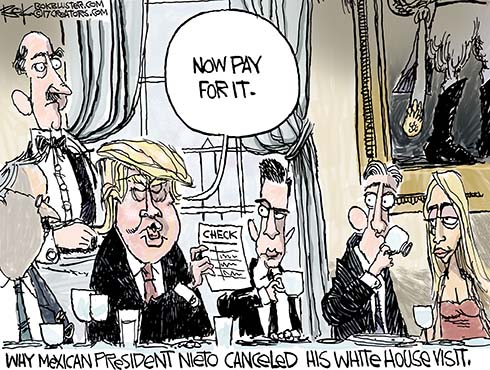 I'm not sure why President Trump seems determined to make Mexico pay for the great wall on the border. We don't expect Mexico pay for our duck penis studies. So shy should Mexico pay for our walls?
Maybe Trump enjoys insulting President Enrique Peña Nieto. He invited the Mexican president for a visit, but then told him not to come if he's not going to pay for the wall. So he's not coming.
Great Wall of Honor
Jonah Goldberg in National Review says this is a serious blow to Mexico's honor. And wars are fought over honor. Peña Nieto is probably back in Mexico City right now sharpening his saber.
Meanwhile, Donald Trump just hung Andre Jackson's portrait in the Oval Office. In 1806 Charles Dickinson accused Jackson of welching on a horse bet. Not only that, he called Jackson's wife Rachel a bigamist.
So Old Hickory killed him in a duel.
We may be onto something here.