Clinton Foundation Smoke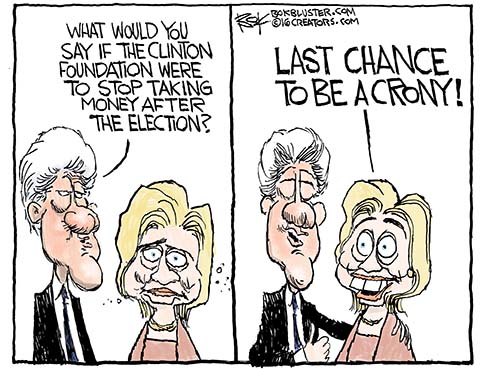 Hillary told ABC News yesterday that she doesn't think Bill should step down from the Clinton Foundation before the election. She's proud of the work the foundation has done and doesn't think there is a conflict of interest:
"I know that that's what has been alleged and never proven. But nevertheless, I take it seriously."
Clinton Foundation Smoke
She admits, there's a lot of Clinton Foundation smoke but no fire.
Clinton Foundation executive Doug Band worked with Hillary's top aid, Huma Abedin, to arrange special access to the Secretary of State for foundation donors. But so far, no smoking gun.
Chicago Tribune columnist John Kass knows something about political corruption. And here's what he has to say about "smoking guns.":
The other day at breakfast, I was talking about this stupid, narrow Washington definition of political corruption with a man who has made it his life study.

"Say you're in a meeting with an elected official, and you say, 'I'll give you so much money if you give me this favor and that favor,' You know what happens next?" asked the man wise in the Chicago Way.

I knew, but I played along: No, what happens?

"The first thing the politician will think to himself, 'Why is he talking that way? This son of a b—- is wired up,'" he said. "And no one will ever talk to you ever again."

That's why it's depressing to hear meat puppets insist that there is no there, there, with the Clinton Foundation and Hillary, because it's already been laid out.

The corruption was in the selling of access to the highest reaches of the federal government.

To someone who was then a sitting secretary of state who — as all the foreign tough guys with treasure understood — was already reaching for the White House.