Category Archives:
Media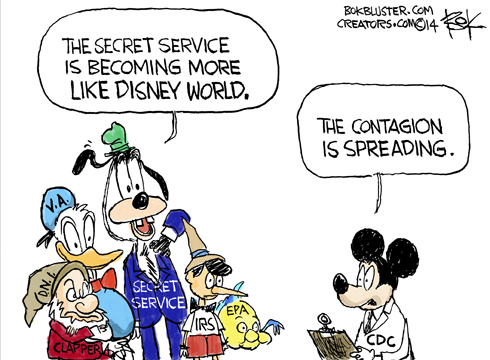 Departed Secret Service director Julia Pierson wanted the Secret Service to become more like Disney World – more welcoming. Omar Gonzales felt welcome enough to dash through the unlocked front door of the White House with a knife. Former Director Pierson has a legacy. In fact the new culture seems to be taking hold throughout the federal bureaucracy.
Peggy Noonan calls the attitude "the new bureaucratic brazenness". Actually not so much welcoming as we don't give a damn what you think.
Everything sounds like propaganda. That will happen when government becomes too huge, too present and all-encompassing. Everything almost every level of government says now has the terrible, insincere, lying sound of The Official Line, which no one on the inside, or outside, believes. The other day, during the big Centers for Disease Control news conference on the Dallas Ebola case, a man from one of the health agencies insisted in burly (and somehow self-satisfied) tones that the nation's health is his group's No. 1 priority. And I thought, just like a normal person, "No, your No. 1 priority is to forestall a sense of panic. To do that you'll say what you need to say. Your second priority, connected to the first, is to assert the excellence and competence of the agency with which you are associated. Your third priority is to keep the public safe."
Doyle McManus just wants to know what happened to good old American know-how.
I like my Grumpy character – Director of National Intelligence, James Clapper. Since Obama threw him under the bus I drew him with tire tracks on his back. Too bad he's facing you.