Category Archives:
Donald Trump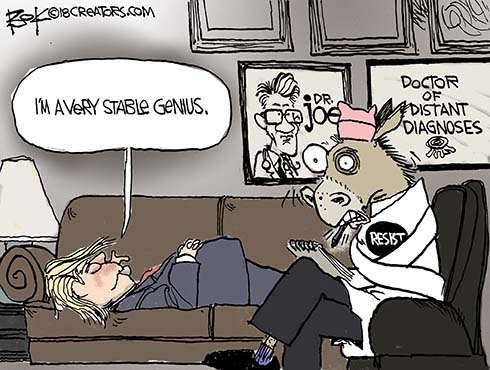 Morning Joe counsels that President Trump is demented. And Yale psychiatrist Dr. Bandy Lee agrees. She warned that "the president's mental health might lead to the extinction of the human species."
At the very least, Michael Wolff cautioned that "something is grievously amiss."
Nurse Ratched was unavailable for comment.
Nevertheless, the president reassured everyone -"I'm a very stable genius."
It looks like we might not have corrupt campaign funding to kick around anymore. The 2020 presidential field is filling up with billionaire celebrities who can fund their own campaign corruption. And that's not to mention the free publicity they'll get.
Oprah gave a speech at the Golden Globes setting off speculation she wants to be president. Her celebrity colleagues went wild. Presumably she'll run as a Democrat.
Celebrity Billionaire Presidency
And Mark Cuban, the celebrity billionaire owner of the Dallas Mavericks, has long been considering throwing his NBA championship ring in the ring. If he does so, he says he'll run as a Republican. Though, as of November he said there's only a 10% chance he'll do it.
Maybe Oprah will inspire him.