Category Archives:
Bush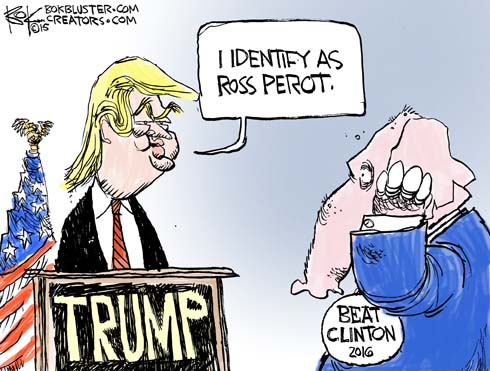 Donald Trump threw his combover into the presidential ring this week. Kevin Williamson of National Review didn't seem impressed. He called him a "witless ape" and an "ass":
…grunting like a baboon about our country's "brand" and his own vast wealth…
Trump did point to his wealth as a qualification. Williamson pointed to Trump's bankruptcies:
The Trump conglomerate is the Argentina of limited-liability companies, having been in bankruptcy as recently as 2009. To be sure, a lot of companies went bankrupt around then. The Trump gang went bankrupt in 2004, too, and in 2001.
Then Williamson brought up another rich guy who financed his own campaign and caused a Bush to lose to a Clinton:
We've been to this corner of Crazytown before. If we're going to have a billionaire dope running for the presidency, I prefer Ross Perot and his cracked tales of Vietnamese hit squads dispatched to take him out while Lee Atwater plotted to crash his daughter's wedding with phonied-up lesbian sex pictures.