Bull in the Swamp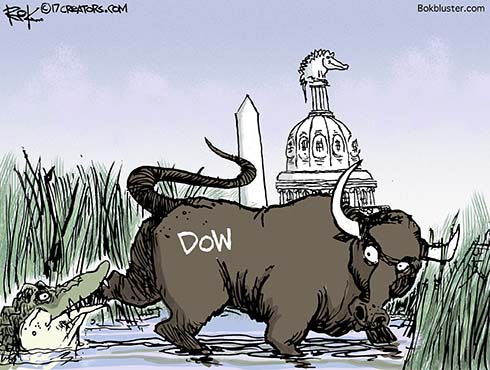 When President Trump rides high so does the stock market. The Dow Bull has surged 2,700 points since his election.
Trump and Bull Get Swamped
But as allegations from unnamed sources rise in the media, President Trump sinks in the swamp. Apparently, so does the stock market. The Dow lost 373 points on Wednesday. The experts say investors worry that if Trump goes down so will his agenda for tax cuts, less regulation, and more growth.
Most experts that is.  Wharton professor Jeremy Siegel, says the market could spike 1,000 points if Trump resigns.
Update: Well, as of noon Friday the Bull has clawed back over 200 points of Wednesday's losses. Maybe I was just looking for an excuse to draw an alligator.