Deep State Is No Deep Throat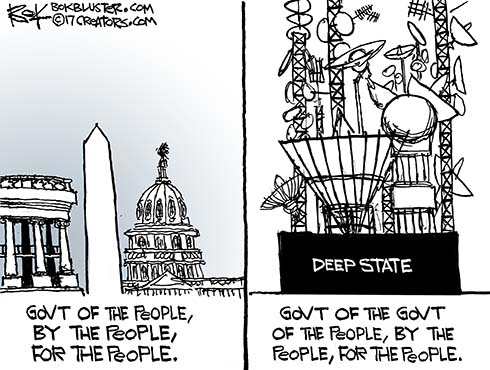 Deep Throat was the secret source who led Woodward and Bernstein to break the Watergate story that brought down Richard Nixon.
I never heard of Deep State until a few weeks ago.  That's when quotes from unnamed sources started turning up in news stories about alleged connections between the Trump campaign and the Russian government. The anonymous sources came from intelligence in the permanent government known as the "Deep State." That would be the state previously known as "the bureaucracy".
The Resist Trump crowd is hoping Deep State will work some Deep Throat magic on Donald Trump
Deep State is no Deep Throat
Anyway, none of the Russian allegations were proven but they still managed to bring down National Security Advisor Michael Flynn. Now the Deep State is following the same playbook to go after Attorney General Jeff Sessions.
Rush Limbaugh thinks the Deep State is conspiring with the Mainstream Media to sabotage the Trump presidency. The muckraking investigative news website Consortiumnews.com seems to agree with Rush. Writing for Consortiumnews.com, Daniel Lazar quotes NYT reporters Glenn Thrush and Michale Grynbaum bragging that,"Trump is being force-fed lessons all presidents eventually learn – that the iron triangle of the Washington press corps, West Wing staff and federal bureaucracy is simply too powerful to bully." Lazare – no fan of Trump – is skeptical:
Iron triangle? Permanent government? In its tale of how Trump went from being a favorite of the New York Post and Daily News to fodder for the big-time Washington news media, the Times seems to be going out of its way to confirm dark paranoid fears of a "deep state" lurking behind the scenes and dictating what political leaders can and cannot do.

…Entrenched interests are nothing new, of course. But a major news outlet bragging about collaborating with such elements in order to cripple a legally established government is.

…So if the conflict between president and the deep state ever comes down to a question of legitimacy, there is no doubt who will come out ahead: The Donald.