Category Archives:
crime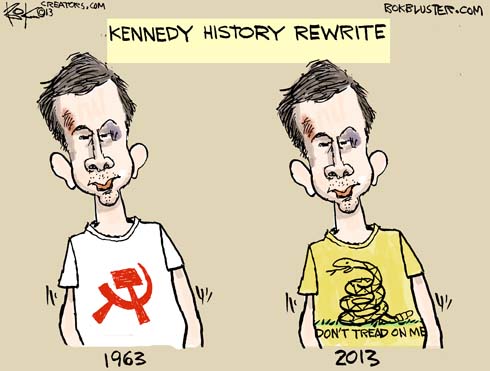 Kennedy Week was a very good week for Ira Stoll's book Kennedy, Conservative. He makes the case that JFK was an anti-communist supply sider and would be a conservative today.
Maybe. Most of the other 11 year olds I knew in those days were anti-communist too. Not so sure about the supply side part – my peer-group wasn't up to speed on tax policy. A quick look at Youtube, however, does show Kennedy was for tax cuts to increase employment and cut the deficit.
He was also in favor of civil rights. At least his wife thought so:
"He didn't even have the satisfaction of being killed for civil rights. It's — it had to be some silly little Communist."
Which brings us to this piece by Rich Lowry. He complains that James McAuley, in a NYT oped, pins the murder on "Dallas, a city of hate with a death wish in its eye". (Now we know who shot JR.) Manny Fernanez, also in the NYT, blames it on an "angry anti-Washington culture".
I think President Kennedy was swell but where can I sign up for this Angry Anti-Washington Culture?
JFK and A Silly Little Communist
The real conspiracy about the Kennedy Assassination is the myth built by the left that sinister right wing forces cut down the young president – when it was really just a silly little Communist.