Category Archives:
crime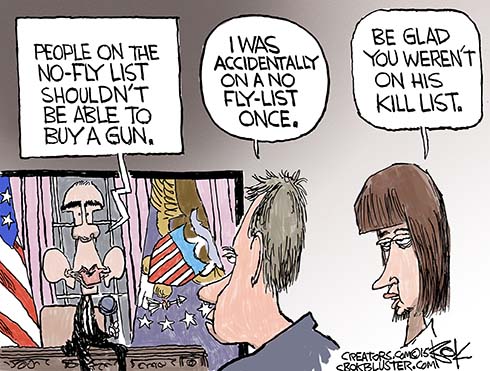 President Obama is making a list and checking it twice. He thinks it's insane that people on a no-fly list can buy a gun. The problem is there's no due process involved in earning a spot on the list. And it's hard to get off if you don't have a direct line to the Secretary of Homeland Security.
Obama is Making a List
Stephen Hayes, the writer and Fox News contributor, found himself on the list and he hardly ever wears a suicide belt. But he did take a one way flight to Istanbul to board a cruise ship, and that did the trick. Hayes filled out all kinds of paperwork to get himself off the list but to no avail. Finally, Bret Baier asked Homeland Security Secretary Jeh Johnson, during an interview, if he thought Steve Hayes was a terrorist. That got him off the list.
The president has worse lists to be on and the way off is even less pleasant.