Presidential Package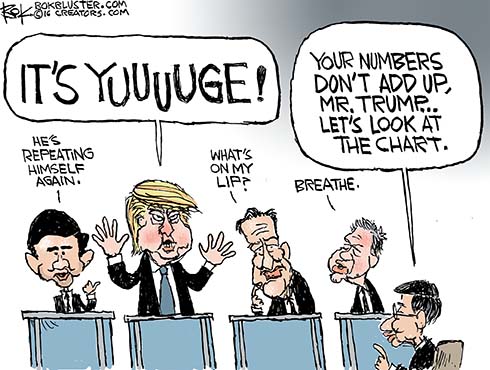 Of all Donald Trump's flaws, he chose to defend the size of his um.. hands on national television. The day after the Detroit debate "Little Marco" criticized The Donald for bragging about his presidential package. It was Rubio who started the whole thing by claiming Trump had small hands – and less.
The Republican Reality show has become too gross even for Jerry Springer:
"They ought to run a crawl along the bottom of the screen, [saying] 'This is NOT a debate for junior high school class president', Mr Springer told the Financial Times.

"Clearly they could be on our show, but now they've gone off the deep end, and we would start bleeping out some of what they'd say," said Mr Springer.
Does Presidential Package Stand up to Scrutiny?
On the upside, moderator Chris Wallace did a nice job holding Trump's feet to the fire using charts to show that his tax plan doesn't add up. Not that it mattered.