Free Press Group-Think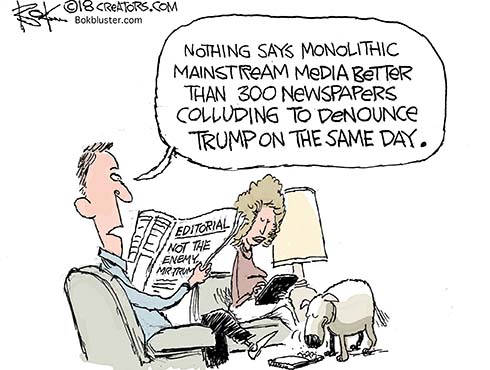 The Boston Globe organized an editorial writing campaign last week. The idea was for independent newspapers to tell Trump to stop calling them "the enemy of the people." All on the same day.
Three hundred plus papers including the New York Times obliged.
Some of the editorials also complained about Trump calling the media an "opposition party." But here's Jim Rutenberg in the NY Times two years ago:
If you view a Trump presidency as something that's potentially dangerous, then your reporting is going to reflect that. You would move closer than you've ever been to being oppositional.
Free Press Group-Think
Others like the Los Angeles Times and Washington Post took a pass on the campaign. Carl Cannon in Real Clear Politics called the joint effort "group-think." And he recalled H.L. Menken's journalistic advice to "be a party of one."
Jack Shafer in Politico added this bit of advice:
Editorial pages of America, don't unite! Think for yourselves! Reject this stupid pro-press assignment!
He also agreed with Cannon that the whole scheme played into Trump's tiny hands. (Okay, he didn't really say "tiny.")