Senator Pocahontas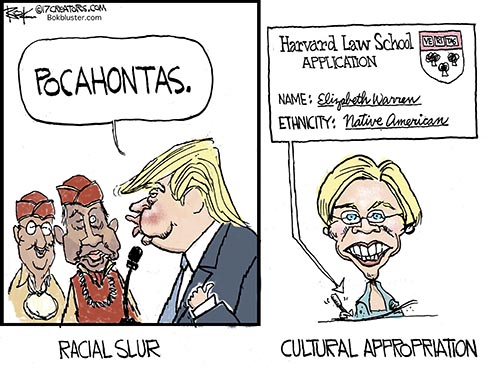 President Trump cracked wise about Senator Pocahontas to some Native American WWII heroes on Monday. Of course he was referring to Sen. Elizabeth Warren of Massachusetts.
Warren, a blue eyed blonde, landed a job at Harvard Law School while claiming to be a Cherokee Indian, due to high cheekbones. Harvard touted her as the law school's "first woman of color."
Senator Pocahontas
Now she's touchy about the subject. So she took Trump's bait and called his comment a racial slur.
Mollie Hemingway says that makes no sense:
The only way the Pocahontas insult makes sense is as a joke about Warren's false claim of being Native American. He's not insulting her for being a Native American, because she's not Native American. He's highlighting how she gave employers and others false information about her tribal status while at Harvard and elsewhere.