Trumped up One China Policy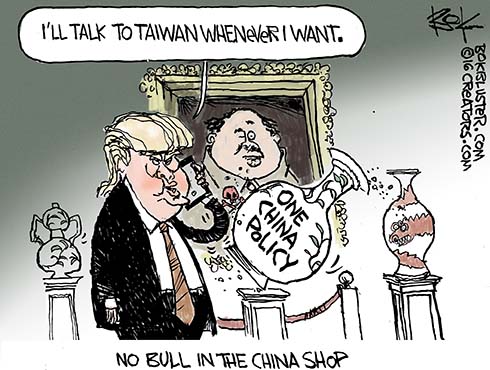 Donald Trump's phone conversation with the president of Taiwan was a diplomatic blunder. According to diplomats. They say it upsets the One China Policy. That's the policy where everybody pretends Mainland China exits and Taiwan doesn't.
The U.S. sold the nonexistent regime $1.83 billion in weapons last year. And China is Taiwan's biggest trading partner.
One China Policy
Henry Kissinger helped  invent the One China policy in 1971. This week he took a ride up the golden elevator to meet Trump. He was impressed. He says Trump is a unique president-elect because he has "no baggage."
I don't think The Donald cares who calls him on the phone. William Murchison of the Dallas Morning News definitely doesn't care. You can read his column here.