Tarmac Talk Could Influence Election Outcome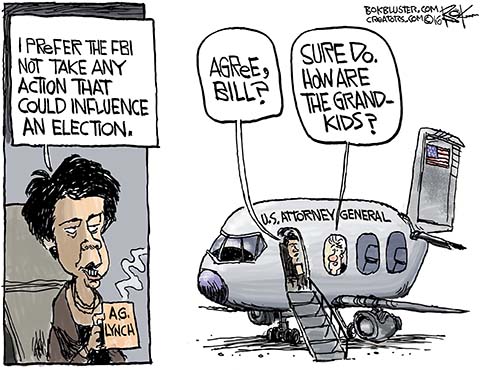 Jane Mayer, in the New Yorker, points out that FBI Director Comey broke with Justice Department tradition:
Attorney General Loretta Lynch expressed her preference that Comey follow the department's longstanding practice of not commenting on ongoing investigations, and not taking any action that could influence the outcome of an election, but he said that he felt compelled to do otherwise.
Tarmac Talk
He might have felt compelled to do otherwise because the AG turned her authority in the case over to him:
Comey's supporters argue that he had to act independently, and publicly, because Lynch had compromised herself by having an impromptu visit with Bill Clinton late in the investigation."
Here's Andrew McCarthy in NR on Comey's tradition breaking behavior:
In effect, it became The Decision because Attorney General Loretta Lynch had disgraced herself by furtively meeting with Mrs. Clinton's husband a few days before Comey announced his recommendation. Comey, therefore, gave Mrs. Clinton a twofer: an unheard-of public proclamation that she should not be indicted by the head of the investigative agency; and a means of taking Lynch off the hook, which allowed the decision against prosecution to be portrayed as a careful weighing of evidence rather than a corrupt deal cooked up in the back of a plane parked on a remote tarmac.
Taking Action
McCarthy says not taking action would also have influenced the election:
But of course, not taking action one would take but for the political timing is as political as it gets. To my mind, it is more political because the negatively affected candidate is denied any opportunity to rebut the law-enforcement action publicly.
Anyway Hillary created the mess so it's her fault. At least that's the way Rich Lowry, A. B. Stoddard, Trey Gowdy, Andrew McCarthy, and Piers Morgan's see it.