Notorious RBG Packs for New Zealand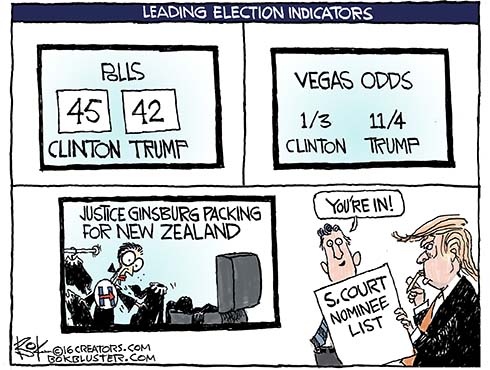 Canada must be getting crowded with Trump averse celebrities. Ruth Bader Ginsburg, told the NYT she's headed for New Zealand if The Donald gets elected. She said, "I can't imagine what our country would be like with Donald Trump as president."
Trump called the Supreme Court Justice's criticism "highly inappropriate". The Times and Washington Post editorial pages agreed.
But Justice Ginsburg, aka The Notorious R.G.B., was on a roll. She told CNN Trump is "a faker". She has also said it's the Senate's job to vote on Merrick Garland for the Supreme Court and she wants Citizens United overturned.
Packing for New Zealand
The WSJ editorial page says it's time for her to go.
Update:
Ginsburg apologizes:
"On reflection, my recent remarks in response to press inquiries were ill-advised and I regret making them," Justice Ginsburg said in a statement on Thursday. "Judges should avoid commenting on a candidate for public office. In the future I will be more circumspect."