Living Breathing Constitution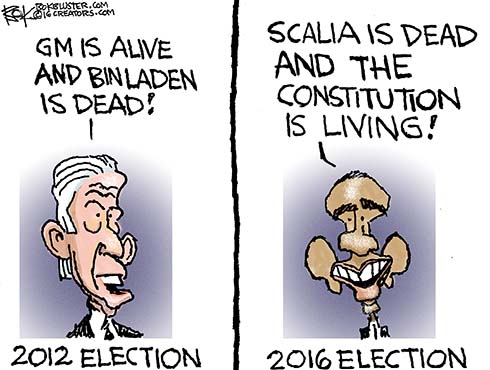 Scalia once said, "The constitution is not an organism. It's a legal text." He didn't believe in a living breathing constitution. Obama does.
Alive or dead, the constitution gives Obama the right to appoint a successor to Scalia. It also gives the Senate the right to ignore him or turn him down. Obama agreed with that back when he was opposed to executive overreach. As a senator, he called Alito un-American and filibustered Bush's appointment of him.
At the time, Obama told ABC News that he supported the filibuster"because I think Judge Alito, in fact, is somebody who is contrary to core American values, not just liberal values." Obama said the court needed to "provide some check on the executive branch, and he has not shown himself willing to do that repeatedly."
Could be a campaign theme. Here's Joe Biden with the 2012 campaign theme.