Category Archives:
carbon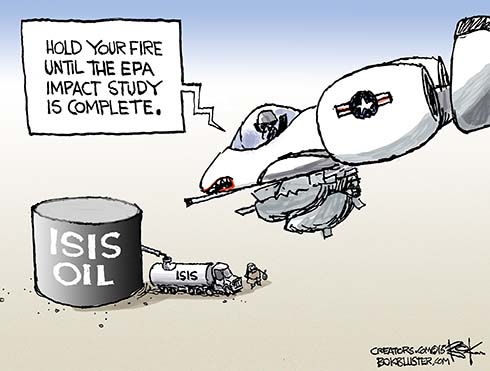 President Obama is so green it's tough to get him to take his own side in a fight.
Former CIA Director Michael Morell told Charlie Rose the reason President Obama refused to bomb ISIS oil facilities was to save the environment.
Really.
Obama was also reluctant to bomb ISIS oil trucks because he didn't want to harm the drivers. When the trucks finally were bombed, we gave 45 minutes advance warning by dropping  leaflets telling the drivers to run away.
Dick Morris thinks this is "loony". ISIS pays its jihadis with the $2 million a day it makes in oil sales. Here's what Morris had to say about the environmental cost of putting a stop to that:
This kind of environmental fantasizing was in vogue during the Gulf War, when Saddam Hussein's destruction of all of Kuwait's oil fields was thought to be likely to cause huge damage. Paul Crutzen, a noted atmospheric scientist, predicted that a "nuclear winter" might ensue with a cloud of smoke covering half the Northern Hemisphere for at least 100 days. Carl Sagan argued that the effects of the destruction of Kuwaiti oil fields could be comparable to the explosion of the volcano Tambora in 1815, which produced "a year without summer."

It never happened.