Superdelegates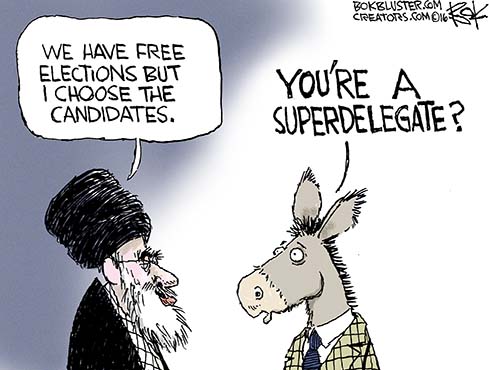 The idea for this one crept into my head while I was reading the  NYT story by David Samuels about "Obama's foreign policy guru" Ben Rhodes.
Rhodes bragged about planting a false narrative about the Iran nuclear deal to make the agreement seem more palatable to the American public. He claimed that the election of Iranian moderates is what sparked the deal. In reality President Obama sparked the deal by reaching out to Supreme Leader Ayatollah Khamenei long before that.
I was mulling over that little subterfuge when Bernie Sanders popped up on the television screen (I was multitasking), complaining again about the rigged Democratic primary.
The Economist explains here how the Ayatollah picks the candidates in Iran.  Law/Street explains here how superdelegates pick candidates in America.