Jeb and Hillary Soaking up Cash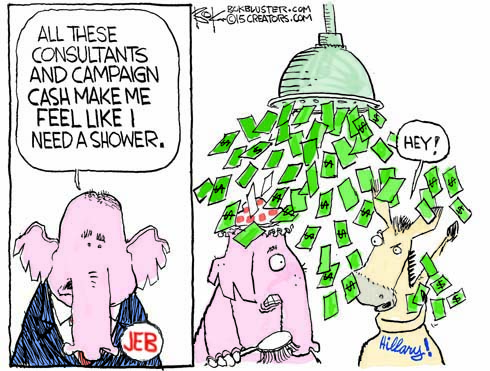 Jeb and Hillary,  the consultant class favorites for 2016, are soaking up the cash. The idea being to bleed dry any upstarts like Scott Walker.
David Brock, the gun toting left wing political hit man who runs Media Matters, resigned in a huff from the board of the PAC, Priorities USA Action. Brock claims his enemies leaked this story to the New York Times revealing that he paid a 12.5% commission to Mary Pat Bonner to raise funds for Hillary. So far Bonner has taken a $6 million cut of Hillary's action.
Apparently commissions are frowned upon in political knife fights.
Update: The Bill, Hillary, and Chelsea Foundation now welcomes foreign contributions.