That 70s Show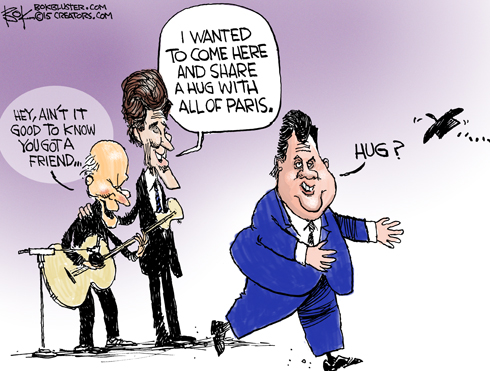 The going got weird on Friday. 70s icons, musician James Taylor and 'Nam vet John Kerry, teamed up to soothe hurt feelings in Paris. The hurt feelings stemmed from the Obama administration's failure to show up for a march in solidarity with those murdered by Islamist thugs at a Charlie Hebdo meeting and at a Kosher food store. Or "parade" as Valerie Jarrett called it.
70s Show
Taking the "better late than never" approach Secretary of State Kerry showed up in Paris 5 days late with Taylor in tow. He actually said he wanted to "share a hug with all of Paris". Then Taylor serenaded the trapped Parisians with You Got a Friend.
It's bad enough that jihadis are killing cartoonists. Now the liberal elites are stealing all the jokes. You really can't make this stuff up. Oxford University Press has ordered its authors not to mention pigs, pork, or bacon so as not to offend Muslims or Jews. Really.
The best I could add to the farce was an imaginary Governor Chris Christie offering to hug France.