Crony Congress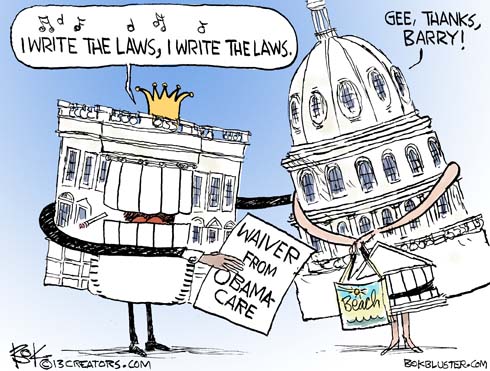 The president sings the praises of the middle class but hasn't changed his tune on the individual mandate to buy Obamacare. Meanwhile he has taken care of big business and the political class by delaying the employer mandate for a year and relieving congress and staff of their obligation to pay for ObamaCare. The WSJ says the law is a "mere suggestion" to this White House. It's enough to make Greta Van Susteren throw up.
Update:
Michael F. Cannon weighs in with Congress's ObamaCare Waiver in NRO:
Obamacare includes a provision that should cost each member of Congress and each staffer $5,000 to $11,000 per year. Needless to say, the ruling class was not pleased.

Congress wasn't about to try to exempt itself from this provision explicitly, though. If John Q. Congressman voted to give himself an Obamacare waiver that his constituents don't get, he wouldn't be John Q. Congressman much longer. What's an aristocrat to do?

On July 30, I predicted that, even though he had no authority to do so, President Obama would waive that provision at taxpayers' expense. On August 1, he ignobly obliged the aristocracy by decreeing we peasants give each member and staffer $5,000 or $11,000, depending on whether they want self-only or family coverage. It's good to be king.