Category Archives:
internet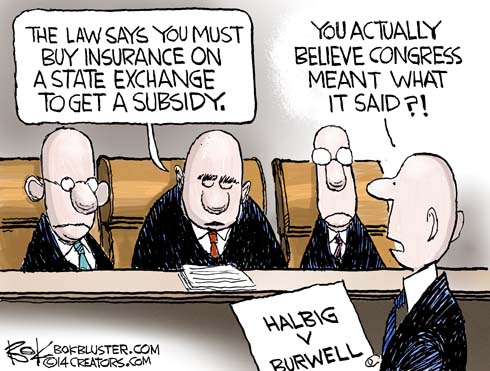 The DC Court of Appeals ruled that the Affordable Care Act means what it says. You have to buy insurance from a state exchange to qualify for a subsidy. If the ruling is upheld by the Supreme Court, ObamaCare will be in big trouble.
ObamaCare supporters are insisting that the law, as it's written, does not express the intent of Congress. It's just a type-o.
State Exchanges
MIT whiz Jonathan Gruber insists there is no way ObamaCare tax credits were meant to be restricted to state exchanges. And he should know, he helped write the law. Except that videos have surfaced showing Gruber insisting that if governors don't set up state exchanges they will deny their own citizens ObamaCare tax credits. And not only that, they'll be forced to subsidize policy holders in other states! Gruber's response is that was a "speak-o".
Kevin Obrien in the Plain Dealer is on the case. So is Megan McArdle in Bloomberg, and Jonathan Keim in National review.