Two Headed Bureaucratic Monster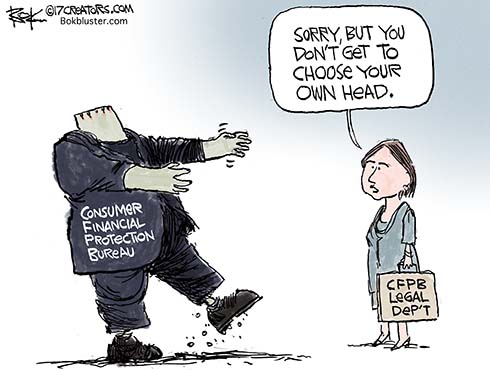 Richard Cordray resigned as Director of the Consumer Financial Protection Bureau on Friday because he wants to run as a Democrat for governor of Ohio.
On his way out the CFPB door, Cordray appointed his chief of staff, Leandra English, deputy director. That spot had been vacant for two years. But the Deputy Director can serve as acting director in the absence of the director, according to the Dodd Frank Act, so it must have seemed like a good time to fill the vacancy.
Trump, however, countered that move by appointing OMB chief Mick Mulvaney acting director. The Federal Vacancies Reform Act gives him the authority to do so.
Two Headed Bureaucratic Monster
On Monday morning both "acting directors" showed up for work. CFPB's own general counsel opined that the Vacancies Act trumps Dodd Frank. So she sided with Trump.