Tag Archives:
Private Ryan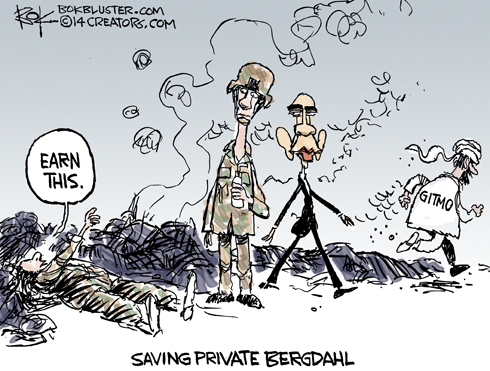 Mad Magazine did a great satire on the Saving Private Ryan movie poster. It was titled Trading Private Bergdahl "they got five taliban leaders, we got one deserting weasel".
In the actual movie, a Lincoln channeling General George Marshall gives orders to find Private Ryan. The hapless job falls to platoon leader Captain Miller.
During the search, Miller has to decide whether to keep a German prisoner or press on to find Ryan. He releases the Jihadi, er German, only to have come back later in the flick and kill one of his men.
When they finally find Ryan, Miller tells him all his brothers have been killed in battle and he has orders to bring him home. Ryan refuses saying the men he is with are his brothers now and he won't leave them behind. Not exactly a Private Bergdahl moment, but hey, it's a movie.
Even though they're way outnumbered by the Germans, Captain Miller and his men stay, and they all get killed. Not really, but Captain Miller does. Miller's dying words to Private Ryan are, "earn this".
Saving Private Ryan
To further prove life is unfair, Private Ryan lost out to Shakespeare in Love for Best Picture in 1998.
Anyway, I thought this might be a good way to mark the 70th anniversary of D-Day.