Conspiracy Theories Run Wild in Washington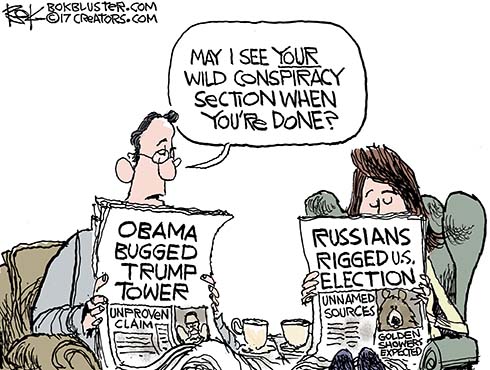 Conspiracy theories are running wild in Washington. But there is no evidence that President Obama climbed a pole and personally wiretapped President Trump's phone. Angela Merkel's phone? Well, maybe a little.
Fox News's Judge Napolitano says Obama got the Brits to do it for him.
Update 3/21/17:
The L.A. Times reports that Fox News has pulled Judge Andrew Napolitano off the air. He had claimed to have unnamed sources who say Obama used British intelligence to spy on Trump. The Brits say that's ridiculous.
"By bypassing all American intelligence services, Obama would have had access to what he wanted with no Obama administration fingerprints," Napolitano wrote in a column on FoxNews.com.
The judge also claimed that Fox News backed up his claim.
"Fox News knows of no evidence of any kind that the now-president of the United States was surveilled at any time, in any way," Shepard Smith told viewers Friday.