Aetna Says Bye Bye to ObamaCare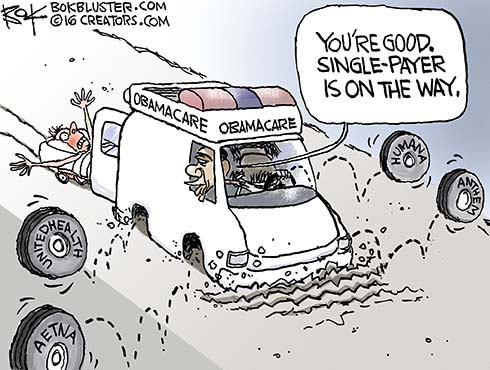 The four biggest insurers are going wobbly on ObamaCare.
What initially looked like a great deal for them – customers federally mandated to buy their product – doesn't seem to be working out as they had hoped.  Bloomberg Businessweek reports that insurers are loosing hundreds of millions of dollars on Obamacare.
Aetna Says Bye Bye
So Aetna now says bye bye to ObamaCare by way of pulling out of exchanges in 11 of the 15 states it serves. UnitedHealth and Humana are following suit. UnitedHealth is ditching 31 of its 34 states, and Humana is leaving 9 of 19 states.
In July the Justice Department blocked a proposed merger between Aetna and UnitedHealth. At the time Aetna wrote that without the cost savings of the merger it would leave the exchanges.
Meanwhile, Hillary Clinton supports a government funded public option to compete on the exchanges with the remaining private insurers.