Denali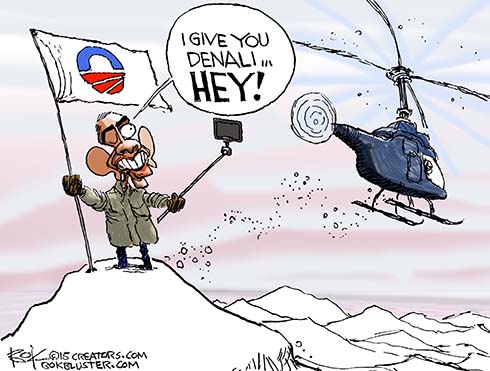 William McKinley was the 25th president of the United States. He's from Ohio. The highest hill in Ohio is 1,500 feet. The Highest mountain in the U.S. is 20,000 feet. Never mind that it's in Alaska, it's named after McKinley.
Denali
At least it was until now. President Obama changed the name to "Denali". That was kind of redundant since the people in Alaska have been calling it Denali for past 100 years.
Still, it didn't sit well with Ohio politicians. Rep. Bob Gibbs, R-Ohio called it an insulting "political stunt". The congressman complained that presidents can't just go around renaming mountains.
After a enjoying few beers the president changed the name of "Mauna Kea" in Hawaii to "Mount Obama". He also changed "global warming" to "climate change".