Hagel Gone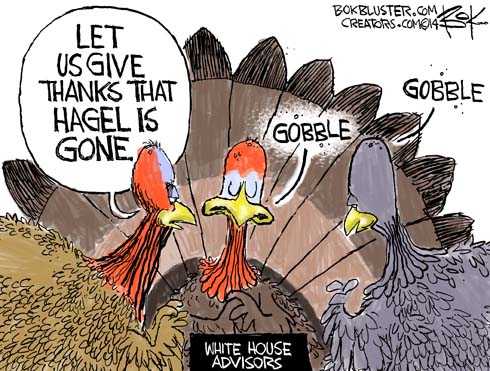 Chuck Hagel is gone as Secretary of Defense. He was Obama's third bird. All three complained about interference from the White House staff. They were ok with the cooks and butlers but not so much Susan Rice, McDonough, and Ben Rhodes. Here's an example from Bloomberg.
Like his immediate predecessors at the Pentagon, Robert Gates and Leon Panetta, Hagel chafed at the way a small cadre of Obama loyalists centralized power in the White House. When Obama backed off a threat to bomb Syria last year, he made the decision on a walk with his chief of staff, Denis McDonough. Hagel was informed of the decision later.
Hagel is is flying the coop, but not just yet. He'll stay on until Secretary of Defense IV is found.