JV Team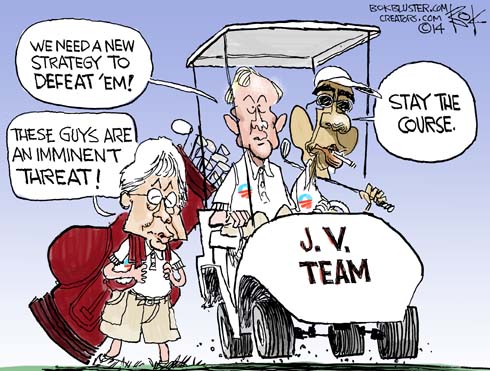 Back when President Obama was bragging that core Al Qaeda had been destroyed, he dismissed ISIS as a terror JV team. Now the JV team is rich and armed with American military hardware. It controls territory in Iraq and Syria. And it's as comfortable with social networking as it is with beheading.
Last week Defense Secretary Hagel had this to say about the JV team: "This is beyond anything that we've seen" … "The sophistication of terrorism and ideology married with resources presents a whole new dynamic and paradigm of threats to this country."
Joint Chiefs Chairman General Dempsey added, ""This is an organization that has an apocalyptic, end-of-days strategic vision which will eventually have to be defeated." He also said ISIS would have to be attacked in Syria to be destroyed.
JV
By Monday it wasn't clear that the White House was on board with Dempsey's assessment.
Apocalyptic though it may be, Dempsey now says ISIS is not a "direct threat" to the U.S. and he won't propose bombing in Syria until it is.
The president is evolving.