Tag Archives:
Kerry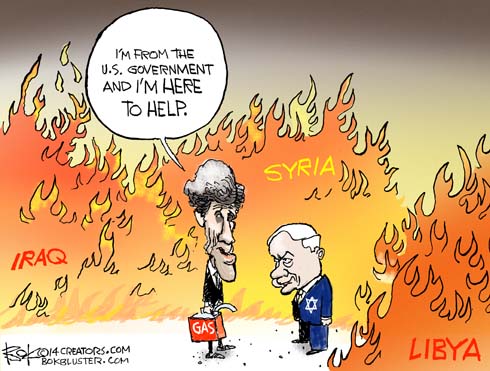 Israel, Egypt, Jordan, and the Saudis want Hamas out and Fatah in in Gaza. So what did John Kerry do? He met with Islamist Turkey and Qatar to come up with a cease fire agreement that keeps Hamas in power and its rockets and tunnels intact. The Israeli cabinet unanimously rejected the deal. Israel has Hamas on the ropes. Hammas is without friends – save for Turkey and Qatar – which is why Krauthammer called Kerry Hamas's lawyer.
Here's David Harsanyi in The Federalist:
Perhaps because of tragic loss of life, the United States would rather see a ceasefire than Hamas dealt a mortal blow. And that is almost certainly one of the reasons Hamas uses Palestinians as human shields.
Thomas Sowell , looking way back, says " 'Cease-fire" and "negotiations" are magic words to "the international community." But just what do cease-fires actually accomplish?"
In the short run, they save some lives. But in the long run they cost far more lives, by lowering the cost of aggression…

At one time, launching a military attack on another nation risked not only retaliation but annihilation. When Carthage attacked Rome, that was the end of Carthage.
Looks like mutual assured destruction all around is the key to world peace.
The Washington Post's David Ignatius calls this Kerry's big blunder:
Kerry's error has been to put so much emphasis on achieving a quick halt to the bloodshed that he has solidified the role of Hamas, the intractable, unpopular Islamist group that leads Gaza, along with the two hard-line Islamist nations that are its key supporters, Qatar and Turkey. In the process, he has undercut not simply the Israelis but also the Egyptians and the Fatah movement that runs the Palestinian Authority, all of which want to see an end to Hamas rule in Gaza.
The State Department's response to Kerry criticism? Well, this is "not the way allies treat each other."