Jeff Sessions vs Pot Industry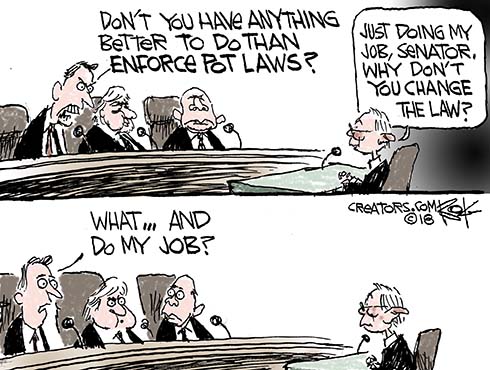 Attorney General Jeff Sessions has "trampled the will of the voters." At least that's the way Republican senator Cory Gardner of Colorado sees it.
Gardner's state has a thriving pot industry. It's legal under Colorado law. But, it's illegal under the federal marijuana tax act of 1937. And Sessions says it's his job to enforce federal law.
On the other hand weed was kind of legalized during the Obama administration. Deputy A.G. James Cole wrote a memo directing prosecutors to ignore pot stores in states that authorize them.
Pot Industry
Senator Gardner says Sessions promised him he would submit to the Cole memo. And now Gardner says he'll hold up "every single nomination from the Department of Justice" until Sessions sticks to his word.
A WSJ editorial says Sessions is being cast as the "uncool parent" who's forcing a debate on the rule of law that Congress should settle.