Steve Bannon's Wild Ride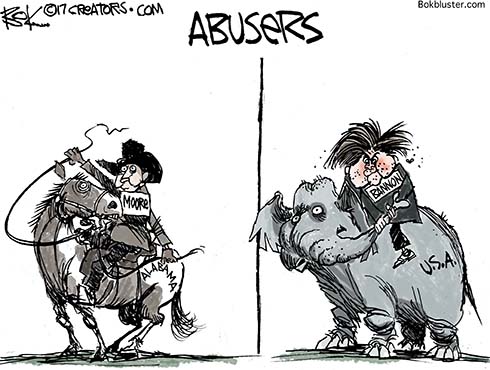 Roy Moore rode his horse, Sassy, to the polls. I think Sassy voted Democrat.
Hard to imagine a worse candidate than Moore. But he was Steve Bannon's man. And Bannon said, "there's a special place in hell for Republicans who don't support Moore."
On the other hand there may be a special place in Hell for Republicans who stick with Bannon.
Wild Ride
The last time Republicans went down this road they nominated a witch, Christine O'Donnell, for the Senate. Of course, she denied she was a witch. She still lost.
The last time Alabama sent a  Democrat to the Senate was Richard Shelby in 1992. And even he's a Republican now.
Not only that, NY Republican Rep. Pete King thinks Bannon looks like a "disheveled drunk."