Castro's Long Reign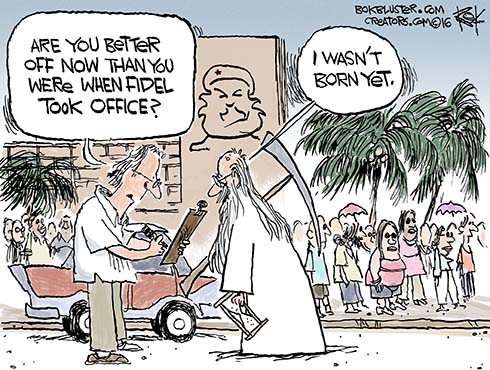 Fidel Castro finally got term limited. He died at age 90. Not a bad run considering he took power in 1959. Castro's long reign outlasted 10 U.S. presidents. He retired in 2008.
Ben Domenech at The Federalist thinks Castro's big mistake was joining the wrong team – the Soviet Union. Another mistake may have been stealing U.S. owned businesses in Cuba. That led to the Bay of Pigs invasion, the U.S. embargo, the Cuban Missile Crisis, and oddball assassination attempts.
Castro's Long Reign
Many world leaders treated Castro as a normal public official. MaClean's thinks Justin Trudeau went from being the most interesting man in the world to "international laughingstock" with his Castro eulogy. Just for laughs, here it is:
"It is with deep sorrow that I learned today of the death of Cuba's longest serving President. "Fidel Castro was a larger than life leader who served his people for almost half a century. A legendary revolutionary and orator, Mr. Castro made significant improvements to the education and healthcare of his island nation. "While a controversial figure, both Mr. Castro's supporters and detractors recognized his tremendous dedication and love for the Cuban people who had a deep and lasting affection for "el Comandante". "I know my father was very proud to call him a friend and I had the opportunity to meet Fidel when my father passed away. It was also a real honour to meet his three sons and his brother President Raúl Castro during my recent visit to Cuba. "On behalf of all Canadians, Sophie and I offer our deepest condolences to the family, friends and many, many supporters of Mr. Castro. We join the people of Cuba today in mourning the loss of this remarkable leader."
Prisoners of History Narrative
John Kerry thinks the U.S. and Cuba were '"prisoners of history." Maybe he had a mind meld with White House narrative boy Ben Rhodes. Rhodes told The Atlantic's Jeffrey Goldberg, "America sometimes makes itself a prisoner of our own history. We have a very complicated history with Cuba."
For its part, The Wall Street Journal editorial board reports that the average monthly wage in Cuba is $20.
Hard to figure how the guy got re-elected.