Dallas PD De-Escalation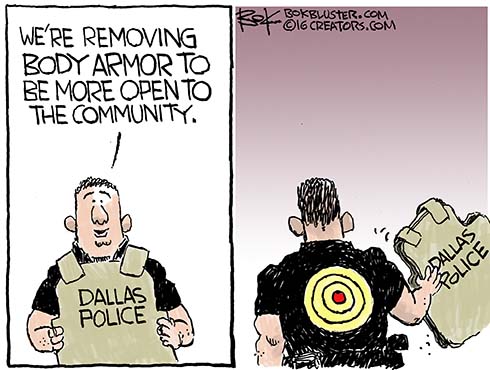 I noticed while watching on TV that the Dallas Police weren't wearing riot gear during the Black Lives demonstration. And the atmosphere seemed peaceful – almost friendly in some cases. The Dallas PD calls it De-Escalation.
De-Escalation
The department wanted more transparency. It published a spreadsheet showing 10 years of incidents resulting in injury or death to suspects in custody. BuzzFeed reports claims of excessive force dropped 64% between 2009 and 2014.
The department's tactics for covering protests reflected its community policing focus. "You have a community that is upset, that feels wronged. It's important to establish trust with them," Maj. Max Geron told the Washington Post. "The ideal police response to a protest is no response at all."

And so on Thursday night, the officers around the protest wore normal uniforms, without helmets or heavy vests.
Vox shows officers posing for pictures with protestors on the police department Twitter feed.