The Block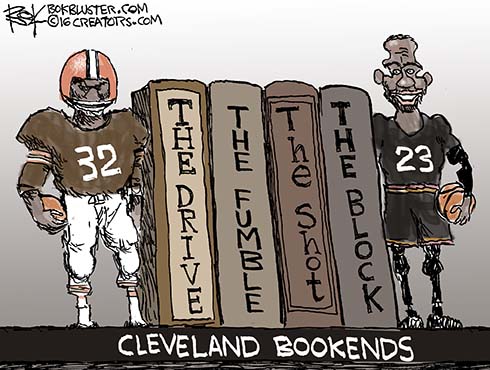 Before game three of the NBA final series against Golden State, Number 23 noticed old Number 32 in the stands. LeBron James trotted over and bowed to Jim Brown. Brown was pleased. He called the salute, "one of my greatest sports moments."
One of his other great moments was The NFL Championship in 1964. It was Cleveland's last major sports title, until LeBron and his co-workers ended 52 years of frustration Sunday night.
The Block
Brown and James bookended five decades of sports despair. Hope was crushed during those years by "The Drive", "The Fumble", and "The Shot."
But now we have "The Block."
LeBron used speed, grace, and power, to chase down Andre Iguodala and smash his layup into the glass. At Deadspin Chris Thompson called it, "the greatest individual athletic feat in a game of basketball that I have ever seen."
It reminded me of Jim Brown's second, third, and fourth efforts half a century ago.
I'm still watching The Block – over and over. You can too, here, here, here, and here.
Go here to see some of my less gushing LeBron cartoons through the years.