Never Again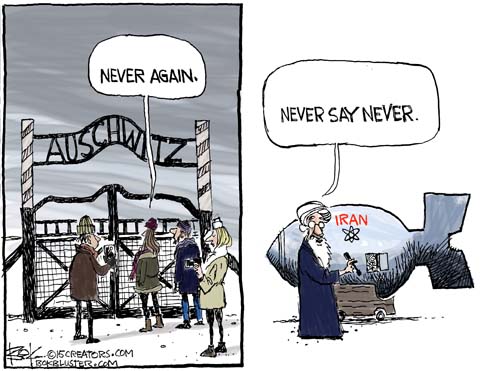 It's "never again' time again.
The beginning of January marked the murder of 4 Jews at a Kosher market as part of the Charlie Hebdo cartoonist massacre. Last week marked the 70th anniversary of the liberation of the Auschwitz concentration camp.
Also last week, Dr. Krauthammer and Professor Victor Davis Hanson wrote about the current status of Jews in the world. "Never again" isn't a sure thing. Anti-semitism has been the norm in Europe "for millennia" reports Krauthammer. The murder of 6 million Jews by the losing side set the cause back for a while. But now it's on the rise again.
Jews aren't concentrated in Europe anymore. Hezbollah chief Hassan Nasralla likes funneling them into Israel. Krauthammer says, "It took the Nazis seven years to kill 6 million Jews. It would take a nuclear Iran one day."
President Obama was a no-show at the Charlie Hebdo world leaders' march for solidarity. He'll be a no-show in March for Bibi's speech to Congress too.
In the meantime, The Washington Free Beacon reports that Iran has targeted Benjamin Netanyahu's children for assassination.