Category Archives:
Uncategorized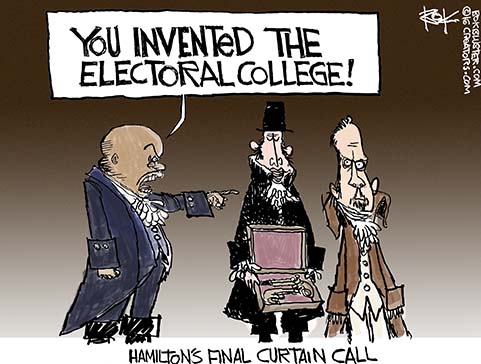 Brandon Victor Dixon spoke vice president to vice president to Mike Pence last Friday night. Dixon plays Aaron Burr in the Broadway hit "Hamilton". In real life Burr killed Alexander Hamilton in a duel.
Pence was in the audience. Unarmed.
At the curtain call Dixon thanked Pence for coming to the show. Then offered some advice about the diverse people in America:
"…who are alarmed and anxious that your new administration will not protect us . . . or defend us and uphold our inalienable rights, sir. But we truly hope this show has inspired you to uphold our American values and work on behalf of all of us."
He was polite but it was maybe a little condescending. A NY Post editorial said, "The words were perfectly respectful — but the implication was downright rude."
Pence
Pence didn't seem to mind. He said he wasn't offended and that Trump meant it when he promised to be president of all the people.
Some good came of Dixon's lecture. I brushed up on my history. You've probably heard that some Democrats aren't happy about the electoral college. But if you haven't perused Federalist 68 lately, you might not have noticed that the electoral college was pretty much Hamilton's baby.
Ok, I only know that because I saw it on Newsbusters.