The Real NCAA Basketball Scandal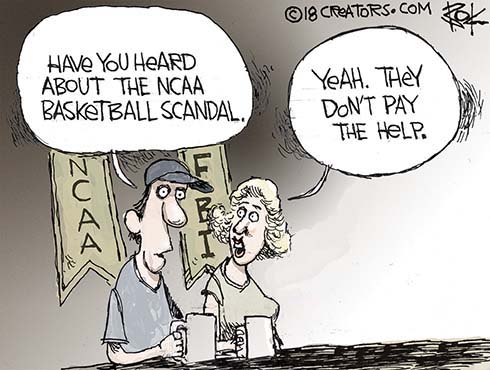 LeBron James says the NCAA is corrupt.
I've always heard the narrative that they get a free education, but you guys are not bringing me on campus to get an education, you guys are bringing me on it to help you get to a Final Four or to a national championship…the NCAA is corrupt, we know that. Sorry, it's going to make headlines, but it's corrupt.
Of course LeBron avoided corruption by ascending into the NBA straight out of high school.
Here's The Real NCAA Basketball Scandal
The players are the only ones who don't get paid. Legally.
Kentucky coach John Calipari thinks players should be able to get loans using their pro potential as collateral. Kind of like an advance to an author from a publisher. But what if you're not a pro prospect? Too bad. You're lucky to get a scholarship.
Here's everything else you need to know about the Scandal according ESPN.