Black Lives Lie Matters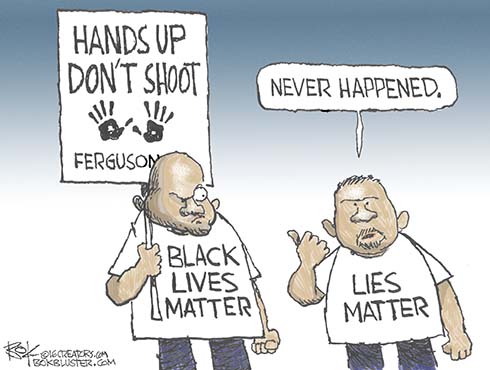 The deaths on live video of Philando  Castile and Alton Sterling created a shocking impression, to say the least. How do you draw a cartoon about a snuff film?
I held off because things don't always turn out the way they seem. Learned that from the Michael Brown case in Ferguson. Brown was portrayed by the media as a "gentle giant". Eric Holder's Justice Department found him to be a thug who was shot and killed while attacking a police officer.
"Hands up don't shoot" was a lie but Black Lives Matter ran with it anyway.
The irony is five Dallas police officers died while defending a Black Lives protest march.
" I may not agree with what you say but will defend to the death your right to say it." – Not just words.
Black Lives
Eugene Robinson explains here why "the racial divide, has its roots in lingering claims of white supremacy."
John Gibbs explains here why Robinson is full of it. He blames Obama for wrongly "accusing the police and justice system at large of racism."
And here's an eight and a half minute YouTube by Paul Joseph Watson that tells the truth about Black Lives Matter.