Author Archives:
Bok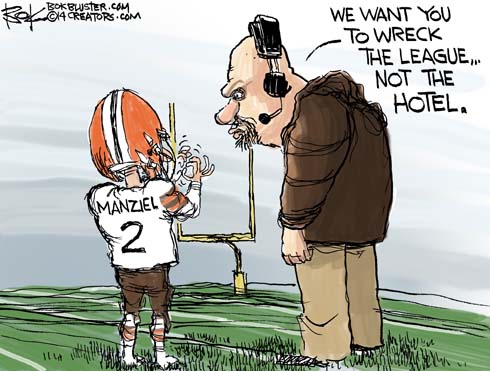 As his stock dropped, and the Cleveland's second pick in the draft approached, a squirming Johnny Football texted Browns' quarterbacks coach Dowell Loggains. 
Loggains told "SportsTalk with Bo Mattingly" on ESPN Arkansas 96.3 that Manziel sent him a text that read: "I wish you guys would come get me. Hurry up and draft me because I want to wreck this league together."
And so the wreckage began. The Browns traded up two spots and took Manziel with the 22nd pick. Same place they picked Brandon Weeden and Brady Quinn in drafts of yesteryear.
Johnny Football after Midnight
The most action Manziel has seen since then was when an overly affectionate fan touched off a bench clearing brawl in his live-in hotel last week. The 2:30 a.m. workout didn't sit well with the Browns' brass.
All seems forgiven. Johnny played two series of downs in Sunday's loss to Buffalo. He scored a touchdown and fumbled in his own end zone. Good enough for a possible start against the Colts this Sunday.
Update:
Not quite good enough. Hoyer will start on Sunday.