Red Flags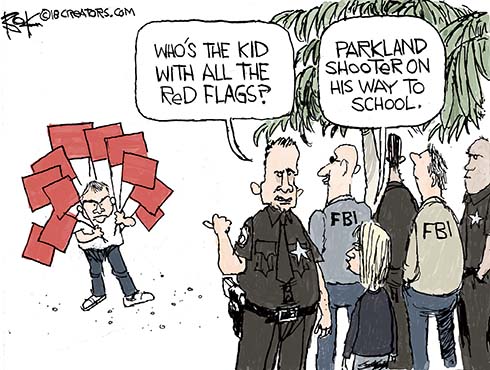 The kid who killed 17 former high school classmates in Parkland, Florida had a tough time getting the cops' attention. Red flags popped up everywhere. Callers warned the Broward County Sheriff's office 18 times. A tipster told the FBI in January, "I know he's going to explode."
Four cops stood outside outside the school building while inside he fired away.
Then the shooter left the building and bought a soda.
National Review's David French says, The Parkland shooter did everything but call police and tell them the date and time of his attack. It would have been difficult for him to make his intentions more clear.
Red Flags
CNN's Jake Tapper asked Broward County Sheriff Scott Israel, "Are you really not taking any responsibility for the multiple red flags that were brought to the attention of the Broward Sheriff's Office about this shooter before the incident?"
The sheriff's reply? "I've given amazing leadership."