Category Archives:
Gordon Brown
Mrs. Murdoch slapped silly her husband's Parliament pie assailant yesterday.  No word on whether the guy smuggled the fully assembled shaving creme concoction in his pants or if he assembled it on site. In any case he managed to achieve the impossible – not by outsmarting security –  but by turning Murdoch into a victim, for a moment.
David Cameron is now calling for more media regulation. Here's an LA Times editorial.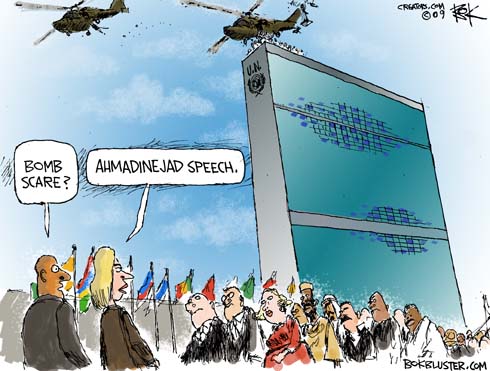 Ahmadinejad gave a speech at the UN last night to empty seats and a smattering of empty suits. The Canadian delegation led a walk-out as he took the podium.  Delegates were outraged by the Iranian leader's anti-semitism. Or maybe they needed a bathroom break following Gaddafi's stemwinder.