Category Archives:
Putin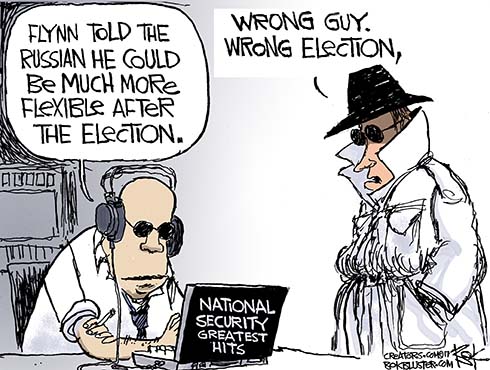 In 2012 President Obama told Russian President Medvedev he would be much more flexible after the election. Obama thought his remarks were private but he was speaking into an open mic in front of tv cameras.
Lucky for him, there was no Republican narrative of Russian election hacking in 2012. It might have seemed plausible, considering the fact that Obama repeatedly mocked Romney for insisting that Russia was our number one enemy. Also, in 2009, Obama halted a missile defense system in Poland and The Czech Republic. Romney described that act as "a gift to Russia."
Russian Hacking
If the Russians had any incentive to hack a U.S. election, 2012 would seem to be the ticket.  After that election they felt comfortable enough to invade Crimea without fear of U.S. sanctions. Obama only got tough with Russia on his way out the door in December 2016. He imposed sanctions after Hillary lost and the Russians were accused of hacking John Podesta's emails. Which, btw, is the only reason we know Donna Brazile fed debate questions to Hillary.
Those sanctions are the ones Michael Flynn is accused of discussing in December with the Russian ambassador. We know about that, not through an open mic, but from leaked classified U.S. intelligence.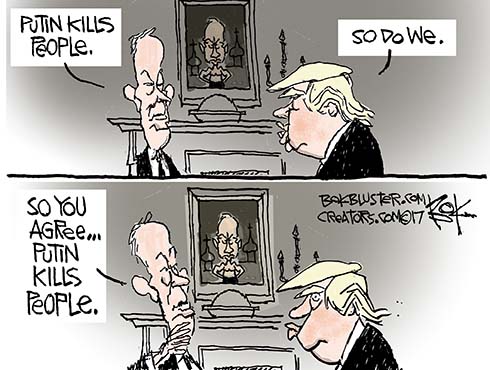 In his Super Bowl interview with President Trump, Bill O'Reilly accused the Russian President of killing people. Trump's response? "You think our country's so innocent?"
That made me think of one of my favorite exchanges between Michael Corleone and Kay Adams:
Michael: My father is no different than any powerful man, any man with power, like a president or senator.
Kay: Do you know how naive you sound, Michael? Presidents and senators don't have men killed.
Michael: Oh. Who's being naive, Kay?
Except Trump is president, not a mob boss. Now who's being naive?
Putin
Anyway, I got the idea for this cartoon from a Holman Jenkins column in the WSJ.
His assessment of  Trump's comments was, "unwise, spoken by somebody with a thin grasp of his circumstances." But he went on to say, "Trump, clumsily, was actually keeping up a longstanding U.S. policy of covering up for Mr. Putin." Then Jenkins detailed the Ryazan bombing plot by Putin security thugs to frame Chechen terrorists. It rarely gets mentioned by American officials. Jenkins thinks that's because everybody wants to make a deal with Putin.
He concludes, "Read a certain way, Mr. Trump's comments make him the first U.S. president to address Mr. Putin's real nature."
BTW: Not climbing on the assassination chic bandwagon or anything here with the title. Just having a little fun with a commentator's line of books.