Voter Fraud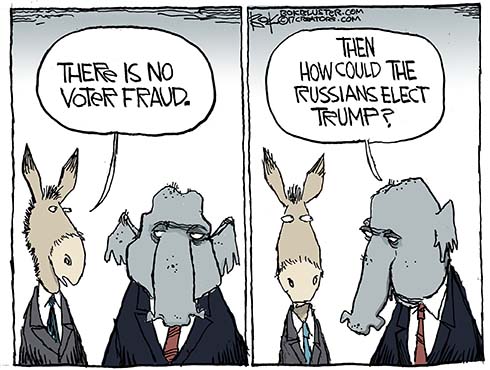 Some Democrats insist there was no foreign voter fraud in the 2016 election. But they also insist the Russians got Trump elected. That, they claim, makes him an illegitimate president.
Holman Jenkins, writing in the WSJ, doesn't buy it:
The idea of Mr. Trump as Russian agent is one more failure of imagination by the media—a striving to believe that some hidden, sinister logic explains his rise (and also excuses Robby Mook).
Robby Mook was Hillary's campaign manager. He wants to pin his electoral failure on the Russians. "Incredibly scary," says Mook.
Here's what Jenkins has to say about intelligence leaks about links between Trump and Moscow:
All this smacks too much of the little Walter Mittys of our overfunded, underdelivering intelligence bureaucracy trying to punish Americans for how they voted.