FDA Gives Mylan Monopoly Jolt On EpiPen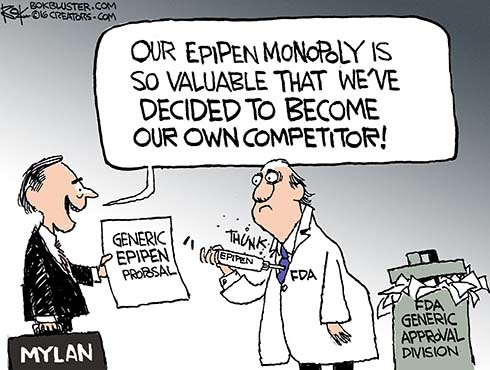 Reuters reports that Mylan will produce "the first generic version of its allergy auto-injector EpiPen." The generic version will sell for $300. That's half the price of the "branded product."
Mylan Monopoly
This will be the first generic EpiPen because the FDA has dragged its feet approving any other generic version. So Mylan has a near monopoly on a life saving product. Now it also has a monopoly on the generic version.
That monopoly enabled Mylan to increase the list price of an EpiPen two pack from $100 in 2008 to $600 today. The company is offering the generic version in response to criticism of its price hikes.
Here's a WSJ editorial blaming the FDA for the Mylan monopoly.